The weather is warm and the sun is out -- sounds like the perfect day to grill! But, if you don't have a grill or are in need of a new one, it's time to figure out how to choose a grill. Lucky for you, our team of experts created a list of grills priced from lowest to highest, to make choosing a grill easier. So, if grilling is your name and outdoor cooking is your game, then you'll want to check this list out to find the right grill for you.
*List does not include premium and built-in grill options from brands like DCS, Lynx, and Wolf.
Price: $439
Why We Love It:
This Weber Performer is a premium charcoal grill equipped with a convenient electronic Touch-N-Go ignition system, a removable LCD cook timer, and a weather-protected CharBin charcoal storage container and painted metalwork table! Plus, if you're someone who likes to make a statement when outdoor cooking, the sharp crimson grill is a bold color that will stand out in any backyard.
-----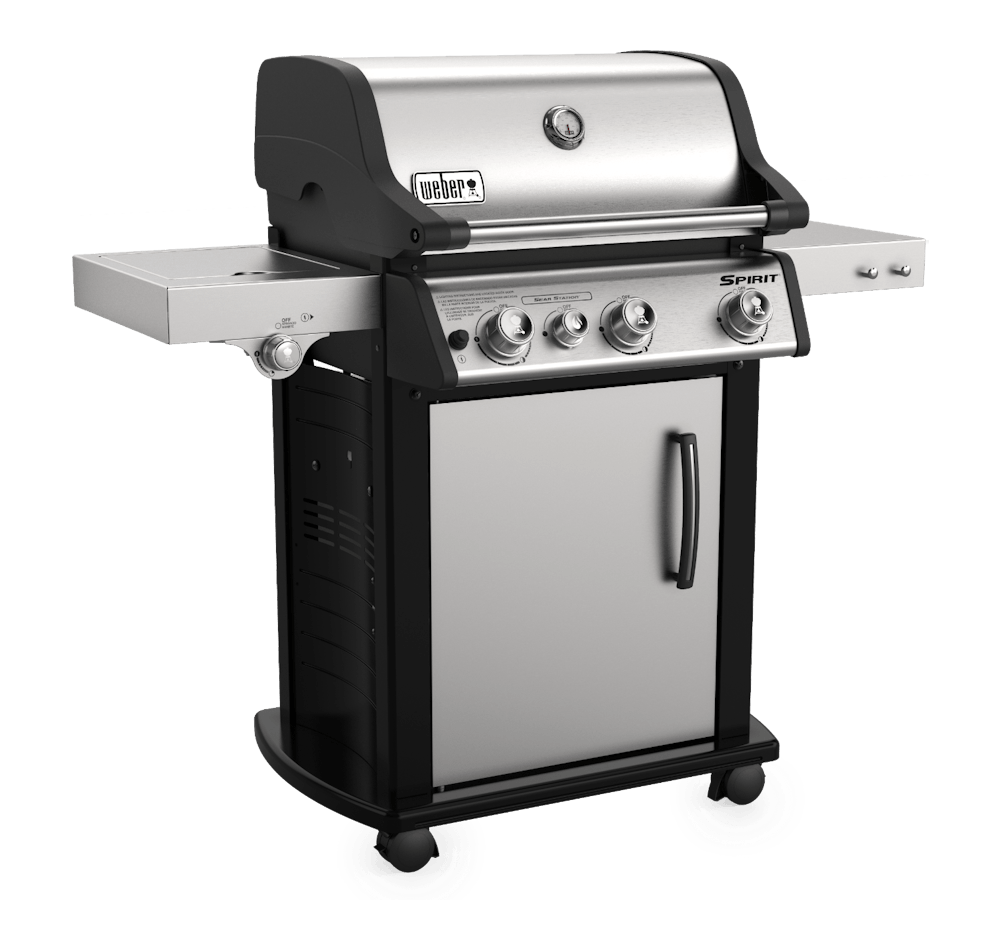 Price: $699
Why We Love It:
If you're looking for a grill with great value, this Weber Spirit stainless steel is a real catch. You'll get a 3-burner gas grill with side burner, enclosed lower storage, and extra cool features like Weber's Sear Station which creates an intense heat zone for the perfect sear.
-----
Price: $799
Why We Love It:
Go above and beyond in your outdoor cooking with this high-performance grill that comes with 3 burners, 9mm stainless steel grates, Infinity Ignition, handle light, AND a 10-year warranty. Plus, it's compatible with Weber's iGrill 3 smart device, which helps you produce perfect results every time.
-----

Price: $999
Why We Love It:
When the Weber Genesis II SE-310 is almost perfect but you're looking for something a little more powerful, the SE-335 is where it's at! From the Sear Station to the high power side burner and a fully enclosed lower storage area, this grill definitely ticks all the boxes.
-----

Price: $999
Why We Love It:
If you are all about smoky flavors, you'll want to check out this all-new pellet grill from Weber. It's offering flexibility to sear, smoke, bake and everything in between. We love the dual grilling space, high capacity hopper, LCD display, and Weber Connect smart grilling technology.
-----
Price: $1199
Why We Love It:
When one outdoor cooking station is never enough, this stainless steel Napoleon Prestige grill comes in handy with two large cooking surfaces! You'll also discover 4 burners, an Infrared Sizzle Zone side grill burner, Infrared rear rotisserie, and Lift Ease centre-gravity roll top lid. To top it off, the grill also features a limited lifetime warranty!
-----

Price: $1199
Why We Love It:
This grill produces outstanding, juicy results with ease. It's a grill, smoker and oven all-in-one featuring the Kamado Joe patented Kontrol Tower top for precise temperature control. Best of all, its unique Air Hinge Lift reduces dome weight by 96% so you can lift the lid with a finger and stop it wherever you want.
-----

Price: $1299
Why We Love It:
This grill is so smart and powerful, it basically cooks the food itself! It has a stainless steel exterior, a large cooking surface, 4 high power burners, Sear Station, interior lights, side burner, enclosed cart, and iGrill 3 smart compatibility. Plus, it's a natural gas grill so you won't be running out mid-party to replace the tanks.
-----

Price: $2499
Why We Love It:
Continuing on the Classic II heritage, this grill delivers tremendous results and ultra-precise temperature control and features Kamado's newest innovation: The SloRoller Hyperbolic Smoke Chamber insert, which uses cyclonic airflow to control heat and smoke for perfect low-and-slow cooking. Need to sear and grill at higher temperatures? No problem. The SloRoller can be easily swapped out for heat deflector plates to accommodate.
-----

Price: $2649
Why We Love It:
In need of the ultimate grill for backyard entertaining? Look no further than the Napoleon Prestige PRO! It includes a huge cooking surface, 6 burners, integrated wood chip smoker tray, Infrared Sizzle Zone side grill burner, infrared rear rotisserie, ice/marinade bucket built into the side shelf, Lift Ease centre-gravity roll top lid, and a limited lifetime warranty!
-----
Now that you know the top grills out there, which one will you be choosing? If you have any concerns regarding grills or are interested in learning more before purchasing, give us a call and our Grand grill experts will be happy to answer all your outdoor cooking questions!
Learn more about the great grilling options at Grand by checking out some additional pages on our site:
Comprehensive Shop Grills Page